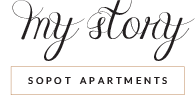 So!  Sopot
You won't even manage to unpack your suitcases because first you'll throw yourself down onto a comfortable bed, open every piece of modern furniture in your room, breathe clean air of the brand new hotel and head out all the faster in flip-flops to the beach or for a drink at Monte Casino.
"My Story" Sopot will be a framework for your stay, your rest, your fun. We will not impose anything on you, we do not include anything in the price, we do not determine anything.
You decide yourself what you choose for yourself and your loved ones from what "My Story" has to offer.
choose from
4

types of apartments
Comfort Suite, Comfort Plus Suite, Deluxe Suite and Family Suite
for relaxation & health
sauna
A touch of luxury in a small pill. A session in a dry sauna will improve your well-being and allow you to relax.
Katarzyna Figura - Ambasadorka My Story Sopot
Jedna z największych gwiazd polskiego kina Katarzyna Figura objęła funkcję Ambasadora My Story Sopot Apartments. Absolwentka Państwowej Wyższej Szkoły Teatralnej w Warszawie, z niepowtarzalnym głosem i długą listą filmów, w których wystąpiła (m.in. "Pociąg do Hollywood", "Kingsajz" czy "Killer"). Jak podkreśla w wywiadach, uwielbia wypoczywać na polskim wybrzeżu, bo czuje tu energię morza. W "My Story" ceni sobie kameralność, eleganckie wnętrza oraz bliskość plaży. Dla naszych Gości organizowane są w naszym hotelu m.in. wieczory filmowe z Jej udziałem. 
YOUR STORIES
choose, enjoy and save cards from holiday
and we will put them proudly on our wall on FB or on the home page and we will thank you with the voucher for the next stay. Let's create a collage of successful stays in Sopot together. We are waiting for you!.
Choose, play and write holiday postcards electronically
and we will proudly post them in our FB gallery or home page and thank you with a voucher for the next stay. Let us create a collage of great holidays in Sopot. We are waiting for you!
contact information
apartments booking
ul. Powstańców Warszawy 53a
81- 712 Sopot
tel: +48 606 848 606
tel: 58 382 38 00
fax: 58 382 38 01
email: rezerwacja@mystorysopot.pl